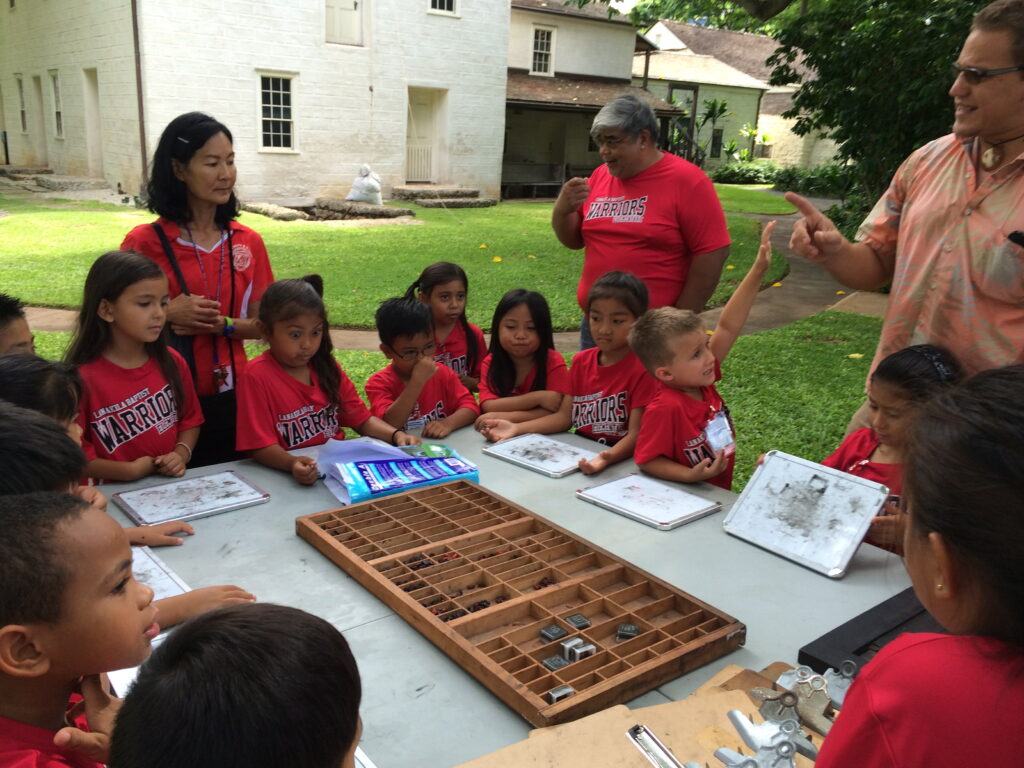 Contact Mike Smola
(808) 447-3914
Hawai'i Mission Houses is pleased to offer some unique opportunities that teachers can bring right into their classroom. These outreach materials are available by reservation for a nominal fee but go a long way in helping teachers bring history to life in their classrooms.
Fee: $10/model 
Special rooms of the Hawai`i Mission Houses are reproduced in miniature for students who are unable to visit our site. Each model includes suggestions for use in the classroom and up to 15 primary resources, such as journals and images, for students to examine. The rooms that are included are the Ka Lumi Kuke (Kitchen), Ka Pala (Parlor), Ka Waihona (Depository), Ka Hale Pa`i (Printing Office) and Ke Kula (School). 
Fee: $15 
Conduct an old fashioned Hawaiian school lesson in your own classroom. The school contents include a lap desk, 5 slate boards, 5 slate pencils, inkwell, ink, quill pen and lesson material taken directly from textbooks printed specifically for Hawaiian children in 19th century Hawai'i. Lesson materials include reading and literacy recitations, arithmetic, animals, and handwriting. An image of Sybil Bingham's classroom will stimulate students, as well as provide information about the ho´ike (examination) in which native Hawaiians eagerly participated.
$20 rental fee/three outfits 
$15 rental fee/two outfits 
Use the Historic Site's collection of reproduction clothing based on the clothing worn in 19th century Hawai'i by early New England Protestant missionaries and native Hawaiians. The contents include all pieces for both a girl's and a boy's outfit. We encourage you to rent an outfit for yourself. In addition, we provide more information about the individual pieces of clothing. Vignettes describing a dialogue are available for students to enhance their dramatic skills. These vignettes illustrate the struggle and humor marking the cross-cultural communication existing in Hawai'i at that time.